This post was written by Pat Hickey, writer for MLB Bonus Baby. You can see more of his work here.
As we all know, the Orioles currently have the second worst record in baseball – just one and a half games "behind" the Pirates, who are closing in on the infamous seasonal achievement. Recently hired manager Buck Showalter has led Baltimore to an impressive 9-3 record since taking over at the helm, including three out of four against the AL Central-leading White Sox. To most Oriole fans, the winning is a good thing. Showalter is a very good manager and, short sample size aside, seems to be a good fit and the right personality with the club as he seemingly has commanded the respect out of his players.
To the rest of the Orioles fans, and likely you, because you're reading this from a prospect site, the newfound winning is jeopardizing the team's chance at winning the Anthony Rendon (3B, Rice) sweepstakes for the 2011 draft. While true, it will not be the end of the world if the Orioles don't have the number one pick in next years' draft. There are three collegiate pitchers with ace or top-of-the-rotation ceilings who would be excellent fits for the Orioles.
Those pitchers are Gerrit Cole (RHP, UCLA), Matthew Purke (LHP, TCU), and Taylor Jungmann (RHP, Texas) – each of whom went 2, 3 and 4 respectively in my very early Top 50 for 2011. With the Orioles remaining schedule, and the seemingly two-team race for Anthony Rendon, it almost seems to be a lock that they will be picking in the top two. In any case, it's a tremendous year to not be winning, as the 2011 draft is the strongest since 2007 and maybe even 2005.
First, let's talk a little bit about Gerrit Cole, who went 11-4 with a 3.37 ERA and a 153/52 K/BB in 123 IP this past spring for UCLA. Cole easily has the best fastball in the draft class. It consistently sits 93-95 and frequently touches 96-99 with good arm-side run and sink, making it an easy plus-plus pitch. He commands the pitch well to all zones and can take some off the pitch to generate weak ground balls. Cole also features a potential plus slider that is thrown in the mid-to-upper 80's. Potential is the operative key word here. At its' finest, there's sharp two-plane break that carves up left-handers. Right now, the pitch is too often flat because he tends to overthrow it, resulting in more of a high-80's cutter than anything else. Cole's command of the pitch is sub-par, as it's serving as a pitch that is chased out of the zone. More advanced and patient hitters will be able to watch it go by. What I think separates Cole from Purke, Jungmann, etc., right now is the off-speed in his change-up. He has a tremendous feel for it and is very confident in throwing it in all counts, something that is rare with a power pitcher. It sits at 81-83 mph with sink and fade, and Cole's deception of the pitch makes it play up to an above-average offering. His command of the pitch is only average, but he typically misses low in the zone with it. Cole does not have any major mechanical red flags and has matured well at his years at UCLA.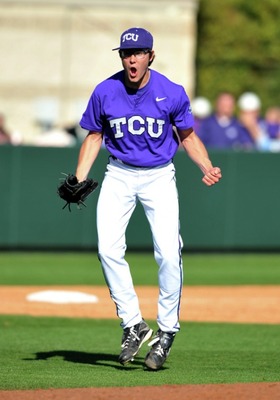 Next is Matthew Purke, who went a perfect 16-0 with a 3.02 ERA and a 142/34 K/BB in 116.1 IP this past season for Texas Christian. Purke is a power lefty that sits in the low-to-mid 90's with natural left-handed tail away from righties. With plus command of the pitch, Purke leaves hitters shortening up their swings and focusing on putting the ball in play. When he gets into the later parts of the game, Purke's velocity and command tends to deteriorate – sitting around 88-90, which makes him rely more on his slider — which is clearly his best secondary pitch. It has tremendous two-plane break, sits between 79 and 81, and commands it equally well as his fastball when he doesn't overthrow it. ESPN's Keith Law noted before the 2009 Draft that he had issues with Purke's low-three-quarter arm slot being a concern when it comes to developing a change-up. I couldn't agree more. It's rare to see someone with that arm slot throw a quality and consistent change-up. He hasn't thrown it a lot during his first two years at TCU in the same sense that he didn't throw it a lot in high school – because he didn't need it. While true, I do think that sets the development of the pitch back a ways compared to someone like Cole. Combining that with what has been said about his arm-slot, and I see Purke as a two-pitch guy right now and likely in the future. Those two pitches can be lethal, however. But, he needs to add more strength to his arm and shoulders to maintain velocity throughout the game to get by with two offerings. Like Cole, Purke just needs some fine-tuning as well as some strength training and he'll be fine. He gets high marks for poise and confidence, something that was well-documented during the Horned Frog's postseason run. Left-handed pitchers with two plus pitches don't grow on trees, especially with that kind of command and ability to generate ground balls.
Last, but not least, is Taylor Jungmann (pronounced like young men), who went 8-3 with a 2.03 ERA and a 129/41 K/BB in 120 IP for Texas this past season. Jungmann's fastball sits comfortably in the low-90s, touching 94-95 occasionally. This pitch tended to be pretty straight, and he utilizes an 88-91 two-seam fastball that has good life to give hitters a different look. His command of the pitch was solid-average, nibbling around the black more often than hitting it. Jungmann also throws a spike curveball in the 81-83 range that has tremendous late bite, dropping straight down out of the zone at the last second, fooling hitters on a regular basis. The pitch is commanded very well, and grades as a plus pitch in the outings I've seen. Jungmann also mixes in an above-average change-up that he pronates to get some unusual fade and depth. It starts as a straight change-up but tumbles down and in towards right-handed hitters. Currently, the command of the pitch is below-average, but it also misses low in the zone, serving as a solid chase pitch when ahead in the count. As with 95% of pitchers, when he overthrows and tries to do too much, he's going to struggle with command. But, that can be easily taught and shouldn't be a concern. Overall, Jungmann has three above-average pitches with solid command. Last time I checked, that's a front-line ceiling.
As Andy McPhail says, "Grow the arms, buy the bats." Obviously, if the Orioles are in position to get a guy like Rendon, you take him. A lot of well-respected industry writers and scouts have said they would have taken Rendon over Harper this past year had they both been eligible in the same draft class. The Pirates do already have Pedro Alvarez at third, and yes, I know he could wind up at first base in the future. But, combine that with Rendon's recurring ankle concerns, and the Pirates dire need for pitching, and the odds that Rendon ends up as an Oriole are still quite high. Either way, the one thing that can be certain is that the Orioles will add a premiere arm or bat next June.
For more detailed information on each pitchers mechanics, read Dissecting the 2011 Top Collegiate Arms.